Life at Datategy:
Jean-marc Briquet
Life at Datategy : Jean-Marc Briquet
After the IEA – Institut Européen des Affaires, I spent more than 16 years in market finance creating and developing the commercial activity of stock exchange companies, investment banks and start ups, mostly fintech.
I totally change sector in 2003 to turn to business development in the software industry. After several experiences I finally, in April 2020, found the startup that gave me the desire, happiness and the willingness to develop a business from scratch and our success can only be matched only by our motivation to grow our beloved baby to become a beautiful unicorn.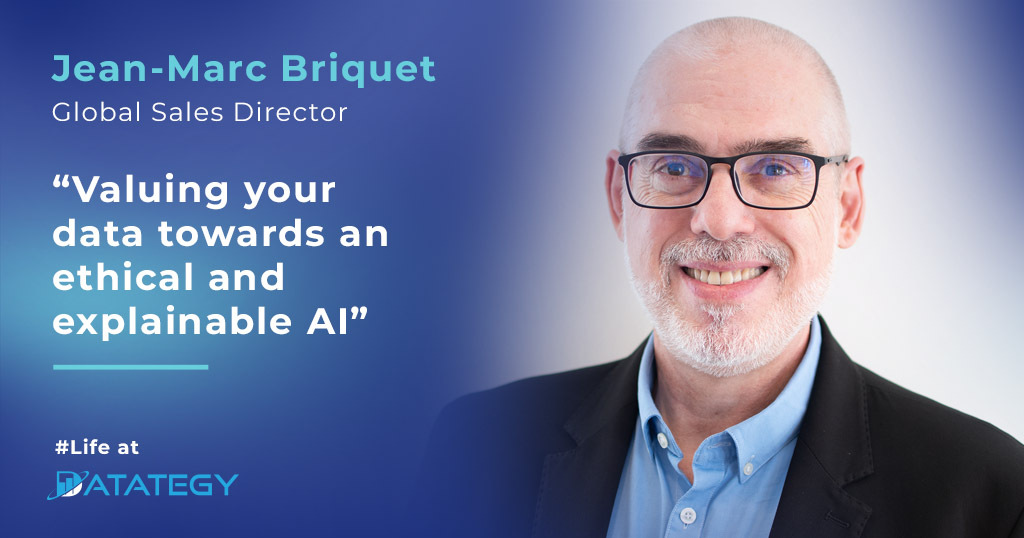 What's your role
at Datategy ?
What's your role at Datategy ?
My role at Datategy as a Global Sales Director is to elaborate all the strategic business thinking upstream and ensure its deployment as I supervise its execution with my various collaborators. But, in reality, I would say that I am the guardian of the temple, in charge of coaching, motivating and supervising the Datategy sales teams while doing business too.
Assisted by a team of sales warriors, our common goal is to democratize the access to artificial intelligence, to promote Datategy solutions such as our papAI studio, and to ensure long-lasting, fruitful relationship with our customers around the globe who are trusting us since several years now.
What does your

typical workday

look like?
What does your typical workday look like?
My working day starts early in the morning with a review of the news and the organisation of my time according to the appointments of the day. I answer to my emails, give prospecting or follow-up calls but also review the team's KPI's and motivate them to continue performing.
Tell us a little

about the

Datategy AI

solution
Tell us a little about the Datategy AI solution
papAI, the data science and AI studio developed by Datategy, is a tool that allows CDOs to solve the problems of putting their data projects into production and its has also a No-Code and Low Code approach for both data and business experts. At a time when explainable artificial intelligence (XAI) takes an important part in the public discussion, the high interpretability of the papAI studio ensures a full disclosure and transparency on the results obtained with AI, identifies biases and guarantees a protection of your data management through a localized implementation.
I often say that : « Valuing your data towards an ethical and explainable AI ».
What's your

favorite part of

your job ?
What's your favorite part of your job
Very easy question for me:  
Doing business with all the new digital tools at our disposal, I regularly work with my team on new efficient business approaches to implement.   
Signing contracts such as our latest contract with the RATP (Autonomous Parisian Transportation Administration), giving us the ability to demonstrate the full power of our platform.   
To discover the power artificial intelligence provides to the CDO, data manager, but also to beginners who doesn't master the code part but have business-wise analysis skills.  
In the end, I enjoy working in a team and, as a coach, I am in the process of transmission of knowledge and accelerate skills development in my team.
What's your next

challenge on

Datategy ?
What's your next challenge on Datategy ?
Actively participate in making Datategy one of the next French unicorns, We also aim to become the global reference platform for building enterprise artificial intelligence solutions, By continuing our expansion in Europe, but also in the United States and Asia.
Interested in discovering papAI ?
 Our commercial team is at your disposal for any question.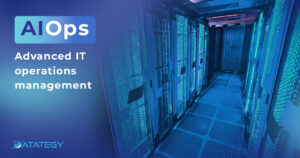 AIOps advanced IT operations management Organizations throughout the world are...
Read More
Life at Datategy : Jean-Marc Briquet